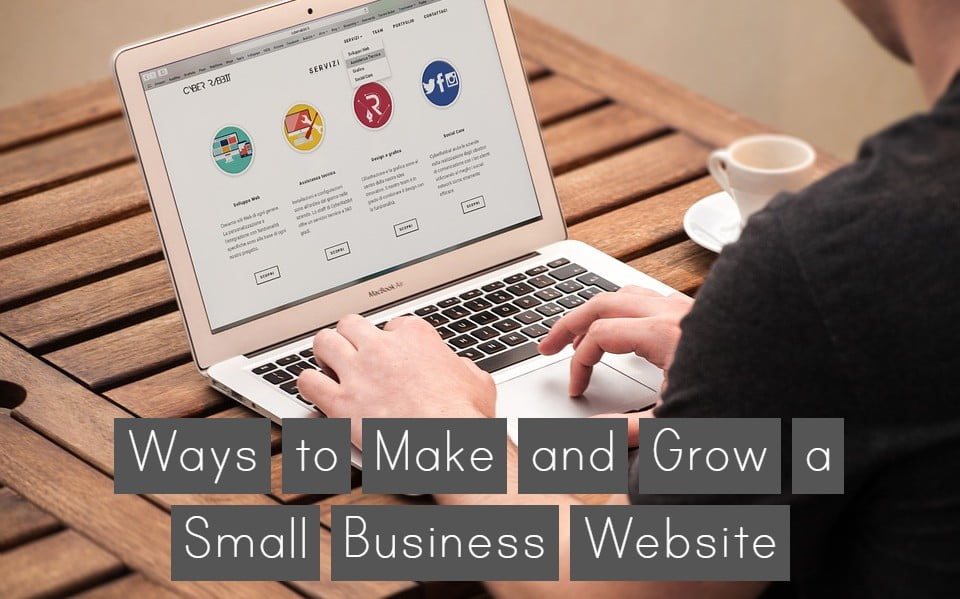 Ways to Make and Grow a Small Business Website in 2020 and Beyond
Whether you are selling some domestic products or providing services like photography, cleaning or product delivery, a mobile responsive, fast loading and easy to navigate website is vital for ultimate business success in this competitive business landscape. Not every small business owner or entrepreneur has thousands of bucks for building and growing a business website. However, they can do a lot themselves without spending much money at all but it takes time, determination and effort.
If you are running a small business and looking to build a website for it, you should go through the following ways to make and grow a small business website effectively to take your business to a next level.
Invest in a Good Domain Name
It is the web address of your business and the entry point to your business site. You should choose a good, attractive and professional domain name for your small business website to make a great impression on your existing and potential customers. A good business name with target keywords provides a business with amazing search engine optimization benefits to rank higher in search engines.
You should make it easy to spell, and try not to use esoteric words or slang to make it hard to search and find. Also, use an apt domain extension to make it attractive. Domains with .com extension are highly recommended by the experts unless it is important to use other extensions like .edu, .gov or .org.
Move with a Secure and Scalable Web Hosting Provider
The selection of a perfect, reliable and affordable web host is one of the vital aspects of building and growing a business website effectually. Web hosting plays a vital role in how your website is presented in front of your audience. That is the reason, always choose a reliable web hosting company that offers the latest hosting technology and support for a business website to be viewed properly on web browsers and mobile devices. When a domain name has successfully been connected to the hosting provider, users are able to view and see your website.
Web hosting providers come with different plans between $5 to $100/month based on the kind of services, technology and support a customer chooses. Buying yearly plans instead of monthly can help you save many bucks. Also, opt for a hosting provider that offers 24/7 customer support.
Choose the Right Platform for Your Website
The selection of the wrong platform or CMS (content management system) for a website is one of the common mistakes business owners must avoid when making a new website. A wrong selection not only takes your more money away and limits the opportunity for a business to grow its website, but it is one of the things that can ruin your online business as well. WordPress is one of the most effective and easy to use CMSs around the globe as it is suitable for all types of businesses, companies and organizations. You can also find plenty of website designing platforms and builders that can help you make your business website live within hours. However, be sure to check for the features and services they offer before you move on.
Make your Web Design Appealing, Memorable and Engaging
If you really want to survive in this digital market, make sure your business website design successfully grabs the attention of users and leaves a great impression. You can choose a simple yet classy and professional looking website theme or template with easy to read and pleasing to eyes fonts. Always use high quality and compressed graphics in your business website to ensure fast loading speed across different mobile devices and web browsers as a slow loading website cannot rank higher in search engines.
In order to do a great job, spy your competitors to check how they have designed their websites and optimized for search engines and do something unique but effective to stand out. Also, research your audience to have an idea of what they want from your side and what appeals to them when visiting a business website. The use of brand colors to design your website can help you make it interesting and memorable too. An easy to navigate user interface lets users reach the desired pages quickly.
Optimize Properly for Search Engines
Search engine optimization is a set of different practices used by business owners and digital marketers to make sure search engines index and rank it higher for target keywords. Benefits of SEO for businesses are myriad and reaching the target audience is one of them. When a business website successfully crawled and indexed by search engines, it starts competing with the websites providing similar information and content. A better web design, quality & informative content and mobile-friendliness are some of the vital things that can make a website stand out.
Below are the steps you can take to optimize your website for search engines to secure higher rankings:
Proper keyword research
An appealing, mobile-friendly and fast loading web design with easy navigation
URL secured with an SSL certificate to ensure automatic data encryption
Use of properly optimized and high-quality visuals
Creating a Google My Business account for better local SEO
Building strong and high authority backlinks by using different off-page SEO techniques
Getting more positive reviews on Google, Facebook and local directories like Yelp
Meaningful internal linking to keep the users engaged
Link sharing on social media platforms to increase website traffic
Ensure Availability on Social Media
There is a strong connection between social media and SEO. Social media is a strong and ideal marketing platform to promote a business for the utmost growth. As social media is two-way communication, it allows you to listen to your customers regarding what they want from your side and how you can improve your processes to provide them with excellent products and services. Moreover, a big number of online buyers usually search on social media sites to check for customer reviews and recommendations. That is the reason, a strong social media presence can leverage the buying decisions of your audience to make them purchase from your business or company.
Email Marketing to Convert Visitors into Buyers
Building an email list is just like creating a valuable digital asset for your business as you can use an email list in your email marketing strategies for better outcomes. In this world of digital marketing, building an email list is one of the marketing musts for small businesses to keep the customers informed about business information, latest offers and product launch events, etc. Email marketing is one of the most effective digital marketing tactics to convert website visitors into valuable customers. However, you should provide your subscribers with something of value and relevant to their interests in order to keep them effectively engaged with your business.