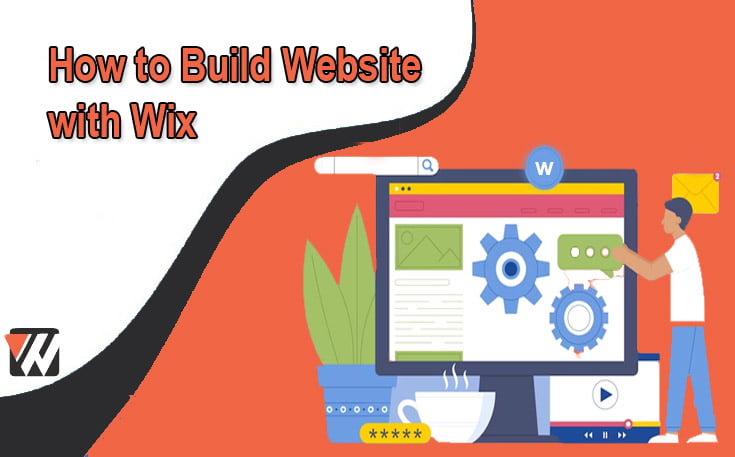 How to Build a Website with Wix in 2024? Step-by-Step Guide
A professional website can simultaneously operate as a store platform, a marketing tool, and an engine for branding. It opens the entire world to you and your business, giving you a unique platform to accomplish nearly anything. Creating a professional and functional website has become easier with user-friendly website builders like Wix, especially if you've never made a website. 
This blog post will provide you a step-by-step guide that will help to build a website with Wix in 2024.
What is Wix?
Wix is a website builder platform that provides tools and exclusive content management systems for managing and creating websites. Its user-friendly drag-and-drop tools with over 500+ ready-made templates. Which assists you in building your website without either having professional skills or hiring a web developer. This is an ideal website builder platform for small and medium-sized eCommerce businesses with over 200 million registered users worldwide and is available in 17 languages.
Tips to Build A Website with Wix
Building a proficient website with Wix is easy because it aims to simplify the process of creating and managing websites, making it accessible to individuals without specialized skills or the demand to hire a web developer. Here are the tips to build a website for your business or online store in 2024 with Wix:
Step:1 Sign up with Wix
In Begain, Visit the Wix website (https://www.wix.com/) and hit the blue "Get Started" button. You'll be taken to the sign-up screen to create a new Wix account or sign up with your existing Google or Facebook credentials.
Step 2: Choose a Template
Click the blue "Start Now" button to access the Wix template directory and browse site designs. The templates shown first depend on your site setup questionnaire answers, but you can choose from various types like community, business, store and creative. Browse themes or search by keywords like "business" or "tech" for specific themes. Preview themes by flowing over thumbnails and clicking "View." For more freedom, check out Blank Templates to create your design with fonts, images and colors. Advanced users can start from scratch for a fully customized website.
Step 3: Customize the Template
As soon as you choose an option to go to Wix editor will redirect you the selection of the template. You can tailor your website's style and structure here. Change the colors, fonts, photos and content to match your brand and personal taste. If one does not fit into your expectations, then explore more by clicking on photo or video buttons. You can go through the huge media library in order to buy an image or an uploaded one as for instance purchasing a premium image in shutter stock or using the one from unsplash, which is a popular stock photo site.
Step 4: Add and Edit Pages
A typical website consists of multiple pages, like a home page, about us, services and contact us. You can easily add and edit pages to create a well-structured website using Wix. To add a new page, click the "Add" button that is found in the site menu bar and choose the desired page type. Edit each page by clicking on it and customizing the content according to your requirements.
Read Also: Top 10 Web Hosting for Small Businesses in 2023
Step 5: Customize the Navigation Menu
A navigation menu allows visitors to navigate your website efficiently. To customize the menu bar and click the "Menus & Pages" button that find in the site menu. Rearrange the pages, rename them, and create sub-pages if necessary. Confirm that your menu is intuitive and user-friendly, which allows visitors to find the information easily.
Step 6: Add Functionalities with Apps
Wix offers a vast collection of apps to enhance your website's functionalities. This app allows you to add features like contact forms, social media integration and e-commerce capabilities. To explore the available apps, click the "App Market" button that finds in the site menu bar. You choose the desired app and follow the instructions to integrate it into your website.
Step 7: Optimize for Search Engines
To confirm your website can be easily found by search engines like Google, optimizing it for SEO is essential. Wix provides built-in SEO tools to support you to improve your website's visibility. To access these tools, click the "SEO" tab in the site menu bar. Optimize each page's meta tags, titles, or descriptions, and use relevant keywords throughout your content.
Step 8: Preview and Publish Your Website
Before making your website live, previewing it to confirm everything looks good and functions, as intended is crucial. Use the "Preview" button in the top-right corner of the editor to see how your site will appear to visitors and you. Make any necessary adjustments before publishing your website. Once you have satisfied, click the "Publish" button to make your website accessible.
Step: Managing and Updating Your Wix Website
At this stage, you can continue using your free Wix account or upgrade to a paid account. Upgrading is necessary to eliminate Wix ads, use your domain, or access features like an online store. You can upgrade at any time by clicking the "upgrade" link in the main menu of the site builder. Most site management options are under the "Settings" link in the editor's main menu. Once your site is set up, you will likely only need to make occasional text edits or add new pages, which the editor can easily do. Use the blog manager button on the editor's left side to add new blog posts.
Step 9: Connect a Custom Domain (Optional)
Wix provides you with a free subdomain (username.wixsite.com). However, you can connect your custom domain to give your website a more professional and personalized touch. It offers domain registration services, or you can connect a domain you own by following the instructions provided.
Final Thoughts
Building a website with Wix in 2024 is a straightforward process that anyone can complete with little to no technical expertise. Following this step-by-step guide, you can create a stunning and functional website to promote yourself or your business. Remember to regularly update your content, monitor analytics, and make improvements based on user feedback to ensure your website remains engaging and effective. Good luck with your website-building journey.