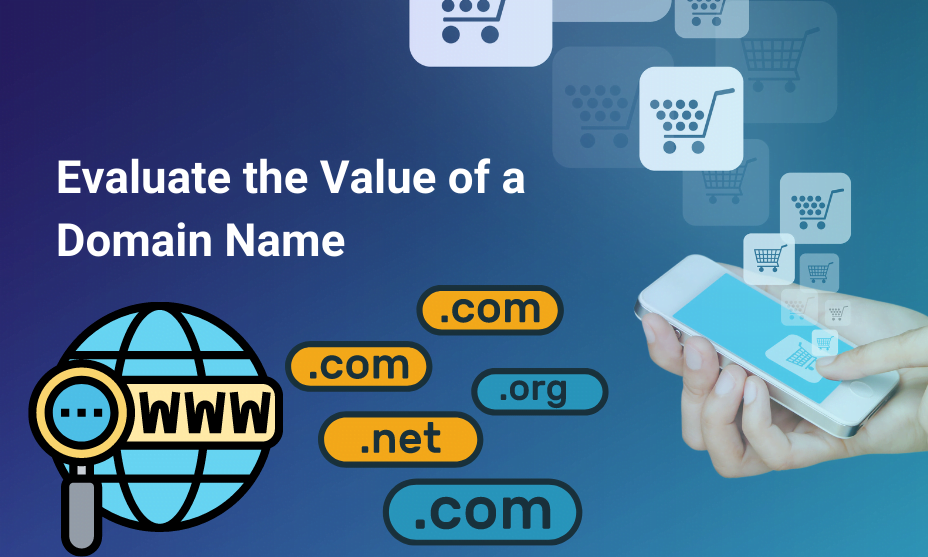 A Guide to Evaluate the Value of a Domain Name
A domain name can be a critical decision for any business choosing the perfect one. Whether you're starting an online store, launching a new blog, or creating your website, selecting a domain name can often feel like a devasting task. There are countless factors to consider when deciding which domain is best for you, from finding one that reflects your branding and products to meeting web hosting guidelines – but perhaps most importantly, it needs to have value. In this guide, we'll help you evaluate the value of a particular domain name so that you can make the most informed decision possible.
What is a Domain Name?
A domain name is an online address used to identify a web page or website. Domain names are made up of two parts: the second-level domain (SLD), which is part of the domain that comes after the dot, and the top-level domain (TLD), which is part of the domain that comes after the slash. For example, in the domain name www.example.com, "example" is the SLD, and "com" is the TLD.
Domain names can be used to identify individual web pages, as well as entire websites. They are often used as a way to make it easier for people to remember where they can find certain information on the internet. For example, if you want to find out more about cats, you might type "www.cats.com" into your web browser's address bar rather than trying to remember a long string of numbers that would take you to the same page.
Factors to Consider When Evaluating the Value of a Domain Name
When it comes to evaluating the value of a domain name, there are a few key factors that you need to take into account. Here are some things to keep in mind when trying to determine the worth of a domain name:
Length of the domain name
A shorter domain name is usually easier to remember and type, which makes it more valuable.
Extensions of the domain name
.com domains are typically worth more than other extensions like .net or .info.
Keywords in the domain name
If yourdomainname.com includes high-traffic keywords, it will be worth more than a similar-sounding domain without those keywords.
The bendability of the domain name
A unique and brand-able domain name is more valuable than a generic one.
Age of the domain name
An older domain name has more history and is, therefore usually worth more than a newer one.
Number of backlinks pointing to the domain
More backlinks generally mean more value for the domain name
Keyword Research for Identifying Valuable Domains:
Identifying valuable domains is all about keyword research. The right keywords can make all the difference in whether or not a domain is valuable. Here are a few tips for conducting effective keyword research:
Use various keyword research tools
There are many different keyword research tools available, both free and paid. Try out a few different ones to see which you find most useful.
Identify your target market
Whom are you trying to reach with your website? What kind of keywords will they be searching for?
Brainstorm potential keywords
Once you have an idea of who your target market is, brainstorm a list of possible keywords they might use to find your website.
Do some competitor analysis
See what keywords your competitors are targeting and try to identify any gaps in their coverage that you could fill with your website.
Prioritize your keywords
Once you have a list of potential keywords, prioritize them based on factors like search volume and relevance to your website content.
Estimating Traffic for Your Domain Name:
You need to understand how traffic is measured. Traffic is typically measured in terms of unique visitors or page views. A unique visitor is defined as a person who visits a website at least once within a given period, while a page view is defined as a request for any file from a web server.
To calculate the traffic for your domain name, you can use one of many online tools, such as Alexa or Compete. These tools will provide you with estimates of both unique visitors and page views. You can also use Google AdWords Keyword Planner to get traffic estimates for specific keywords that are relevant to your domain name.
Estimating the Potential Revenues of Your Domain Name:
The length of a domain name is one factor that can impact its value. Generally, shorter domain names are more valuable than longer ones because they're easier to remember and type. However, there are exceptions to this rule. For example, a longer domain name may be worth more if it's highly relevant to your business or industry.
The final factor to consider when estimating the value of your domain name is its perceived use value. That refers to how likely people are to visit your site and make a purchase or take some other desired action. Domain names with high-use values are usually related to popular keywords or industry terms. They're also easy to spell and pronounce so that people can easily find and remember them.
Understanding the Cost of a Domain Name:
When it comes to domain names, the cost is often one of the first considerations. But what exactly is the cost of a domain name?
There are a few different factors that go into the cost of a domain name.
The first is the registration fee. That is the fee you pay to register your domain name with a registrar.
The second is the renewal fee. That is your fee to keep your domain name registered for another year.
The third factor is the cost of web hosting. That is the fee you pay to have your website hosted on a server. 
The fourth factor is the cost of email hosting. That is the fee you pay to have your email hosted on a server.
Finally, there are miscellaneous costs associated with owning a domain name. These can include things like privacy protection and website security.
Finding and Registering an Appropriate Domain Name:
If you are starting a new website or blog, one of the first things you need to do is find and register an appropriate domain name. But how do you know if a domain name is good? Here are a few criteria to help you evaluate the value of a domain name:
Once you've found a few potential names that meet the criteria above, it's time to check availability. Use a domain searches tool like GoDaddy or NameCheap to see if your desired domain name is available. If it's not, try modifying it slightly or adding a prefix or suffix until you find an available option that meets your needs.
Don't forget to factor in the cost of registering your desired domain name when evaluating its value. Registration fees vary depending on the extension you have.
Conclusion:
Evaluating the value of a domain name is a dominant step in purchasing the right one for your business. You can assess the worth of a particular domain name and make sure that you're making a sound investment by following our guide. Consider factors such as target audience, keyword optimization, brand recognition, and marketability before deciding on which domain to purchase. When you have all this information at hand, you'll be equipped with the knowledge needed to inform your strategy when it comes to online presence and website building.