The Different Parts of a Website and How They Work Together
Internet and tech development in today's era plays an important role in leading and letting us live a quality of life. The advancements on the internet are making their way into every genre of life. People spend plenty of time on their devices searching for products, and services, or shopping through any website or channel. They also spend quality time reading blogs and entertaining themselves. For these purposes, specific websites are developed. There are different parts of a website that are helpful for an easy interface.
Significance of Having a website:
Websites play an important role in making the face of any brand and are helpful for entrepreneurs in running an e-commerce business. These websites are also helpful for entertainers to entertain their audience by uploading shows on the official web pages. Blog writers are using their websites to convey authentic information and different brands are using websites for marketing purposes and reaching more audiences in general. It is obvious for entrepreneurs on social media to have a website with different parts of the website properly worked on and built.
Different Parts of a Website:
To design a website and the different parts of a website, it is important to have a proper understanding of how essential these parts of a website are for the proper and user-friendly interface.
Any website that is built by following the basic parts ranks high on search engines. Well-developed and organized websites give an image of the brand as being professional.
A website is said to be well managed and optimized if it has the following parts in it.
i- Navigation Bar: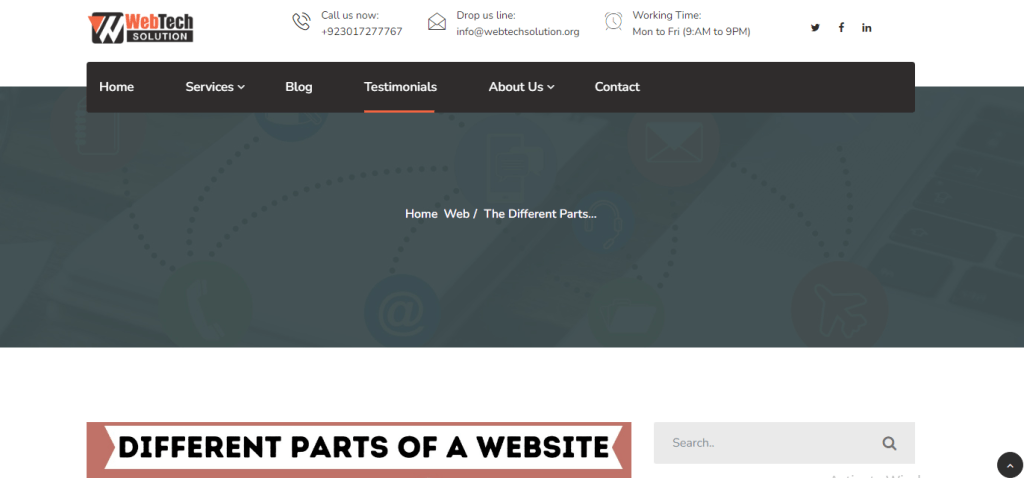 A navigation bar is said to be the most crucial part of the website when displayed on the main page of the website. On websites, it also can be referred to as a menu bar. All the pages and tabs are said to be displayed on the navigation bar and it provides easy access to anyone who wants to go to any specific page of the website by displaying it on the top. Maintaining a navigation bar with the right links and labels must be given attention.
ii-Graphics and Sliders:
Featured images and graphics play an important role in presenting the main product and services of the brand. These images are essential when displayed on websites as pop-ups. Graphics give more ideas to visitors as they are more attracted to visual representations of products. With these images, more is usually conveyed and interacted with.
Graphics can also be used as sliders within the websites as this is how any organization can represent its product by using sliders anywhere. Services and products are displayed as a slideshow when included in sliders to attract more customers.
iii-Header:
Headers are crucial in maintaining the visibility of the site as they include a navigation bar and site logo within it. Whenever any visitor clicks on the website, the first thing he scans is the main header of the website as it provides all of the crucial introductory images of the brand. Headers play an important role in making people identify the organization and brand as it provides guidelines as to how different web pages can be explored.
iv- Content:
The genuine, original, and authentic content tells visitors about the main objectives of the agency or an organization. Content on the website whether the products, services, graphics, audio, or videos should be relative to the brand's message. The content should also represent everything an agency or an organization is working on or doing.
The homepage should display all the tabs within categories so that visitors and general traffic gets a detailed description of everything they want to know. Everything should be available on the homepage in genuine and authentic content. All the details should be mentioned in tabs so readers and visitors get more ideas about the product, brand, and services. Every page of the website should be in general addressing issues and more descriptions about the pricing and promotions of the product and services.
v-Footer:
if any visitor wants to get information about the web page effectively and quickly, they need to know that there is a footer that includes all the relevant navigating information of the website. This contributes to seo as well organized and detailed web pages are somehow or other more visited by users and this generates more traffic for the agency's website. More traffic means a more developed organization as google recognizes the activity on the specific web and then ranks it for the visitors on its main pages.
The footer on the website page can have different information on it, it can be the contact details or the location of the organization where the map is linked, It can also have social media accounts linked via icons. Other announcements can also be included in the footer. If a company is running discount deals, they can be mentioned in the footer with the quick access link to the shopping cart.
vi-Landing Page:
Landing pages are basically the pages where the visitors specifically land once they click on an ad or link on the web page. In some well-developed brands and web portals, landing pages typically contain a form that can be a subscription form for visitors. These forms contain different templates where visitors have to add details about their emails and contact information. The landing page allows its visitors to take certain actions about anything they want to do with the product or services.
Conclusion:
There are different parts of websites and each holds its value. Any brand working on a social media platform needs to know it is important to manage and develop a website to have a professional face of their agency or an organization. Following all the above-mentioned parts in developing a website means that more people are going to have your website in their top results which increases the organic traffic for your website. These above-mentioned parts of a website prove to be the backbone of making a brand successful through an authentic website.