Rename your Tab Stacks & Search Languages in Drop Down Menu on Vivaldi 5.3 on Android
Due to the increasing use of mobile devices, there are so many browsers available for Android devices but not all are created equal. People use mobile web browsers to access the internet while on the go so they can search and find the required information or nearest store locations immediately. Some also use them for a variety of business-related tasks when they are traveling from one place to another. Vivaldi is one of the best Android browsers designed for increased productivity and efficiency. They are continuously adding new features and ways for users to access the internet on Android devices faster than before.
Vivaldi 5.3 update is out there and allows users to edit and rename two rows of tab stacks with unique titles to manage their tabs in the best way possible. The built-in translation tool also lets users search for desired languages using the dropdown menu. It helps users find the languages easily for translation of selected text or entire web page. Not only this, the update also introduced syncable search engines that allow users to sync and access browsing data and history across Vivaldi browsers installed on different devices.
Below is everything explained that you can enjoy in Vivaldi 5.3 on Android update.
Ability to Rename and Edit Tab Stacks
Working with too many tabs open can be problematic. But not with Vivaldi, because now you can combine multiple tabs with similar sites into tab stacks and then rename those stacks using different titles and names. This helps you access the required tabs quickly and easily. Editing tab stacks work well when you are browsing multiple websites related to a particular topic or subjects like cooking recipes, how-to guides, or shopping.
Two-level tab stacks are very useful for beginners and experts to manage several tabs open on mobile. When they are renamed, you can easily access and view the required tabs without going through the entire list of tabs. To rename or edit your tab stacks, you need to tap on the stack and choose ''Edit Tab Stack'' option from the given menu. Then you can add, remove or rename tabs into the selected tab stack. You can also use tab switcher to choose and edit a selected tab to give it a personalized look.
View All Tabs in a List with a Swipe Gesture
Using a mobile browser is a hassle-free way to find what you need over the web. But opening lots of tabs can be troublesome to find a tab you want to view. To eliminate this hassle, team Vivaldi has added a tab switcher feature that allows you to see all the open tabs in a list so you can go through them and find a required one easily. This helps you save time and improve the browsing experience on mobile devices.
Just click on Settings> General >Address Bar swipe gesture to turn this feature on.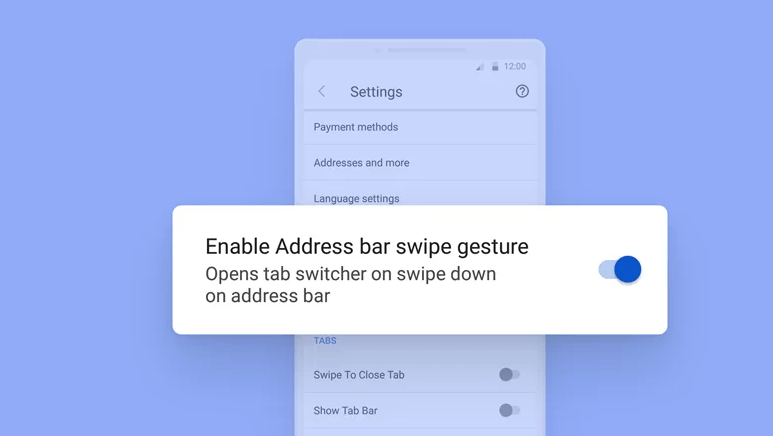 Search Languages Using Dropdown Menu
Team of developers at Vivaldi has recently added a private and powerful translation tool to the browser so users can translate the selected text or entire web page easily. In the 5.3 update, they have added a dropdown menu for language selection for translation. Users are now able to select a language for translation by using the dropdown menu or by typing the language name in the search bar. With 108 languages, Vivaldi is an ideal web browser for people around the globe as it helps them browse the websites in their own languages. When you translate text using Vivaldi, all translation queries are saved in the history. This means you can view the translation history via Panels.
Syncable Search Engines
From Vivaldi 5.3 on Android to onwards, users will be able to sync search engines across the devices with the Vivaldi browser installed. Just sign in on the devices with a Vivaldi account and all the browsing data will be synced within moments. As Vivaldi is also available on Android Automotive OS, you can also sync your browsing data with your car's browser.