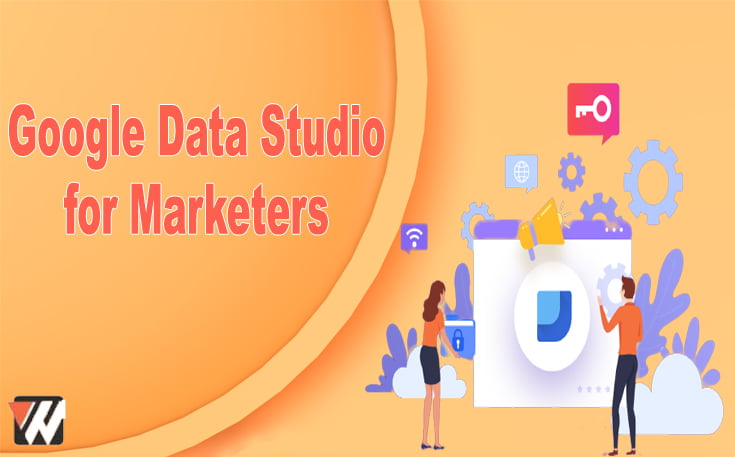 Guide to Google Data Studio for Marketers
Google Data Studio is a high-powered tool that allows marketers to visualize and analyze their data in an interactive and meaningful way. Data-driven decision-making is a dominant aspect for marketers to optimize their policies and drive business success in today's digital age. Its user-friendly interface and potent features have become essential for data-driven marketing techniques. This content will provide a comprehensive overview of Google Data Studio tailored to marketers.
What is Google Data Studio?
Google Data Studio is a web-based reporting and data visualization tool provided by Google. It allows users to create customizable, interactive reports and dashboards by connecting to various data sources, such as Google Analytics, Google Sheets, and more. With Data Studio, users can transform raw data into visually appealing charts, graphs, and tables, making analyzing and presenting data meaningfully easier. This provides real-time collaboration features, enabling multiple users to simultaneously work on the same report. Overall, Google Data Studio helps individuals and businesses gain insights from their data and communicate them effectively.
How to Use Google Data Studio?
Meaningful and understandable data is a boon for marketers, but transforming web data into valuable insights can be challenging. Google Data Studio, a data visualization tool offered by Google, can save a lot of effort and time in this process. Below we describe a simple and easy process of creating a report with this tool for marketers:
Step 1: Sign in to Google Data Studio
The first step is to sign in to your Google account and navigate to Google Data Studio from this URL (DataStudio.Google.com). You can sign in by visiting the official website.  When you find them, click the "USE IT FOR FREE" button.
Step 2: Connect to Your Data Sources
To generate reports, you must select connections with your data sources. This can be accomplished by accessing the menu options and clicking the "Data Sources" button. From there, you can select various integrations like Google Sheets, Google Ads, Google Analytics, Ads, Facebook, SQL database, BigQuery, YouTube, Google Docs, and Google Maps.
Step 3: Create Your Marketing Report
You can start creating reports after successfully establishing connections with your data sources. On the Home page, navigate to the Reports section and click the "+" button to initiate a new blank report. You can utilize pre-built templates by selecting the desired template, and automatically generating the report.
Choose the Right Visual to Report Your Data
Selecting appropriate visuals to represent your data is another crucial step in creating impactful reports. Access the toolbar and click the "Insert" option to accomplish this. From there, you can choose from a range of available visuals. Some examples include:
Pie Chart
Tables
Bar Chart
Score Card
Scatter Chart
Bullet Chart
Area Chart
Step 5: Choose a Template
If you prefer to utilize a template for your report, you can explore the selection of pre-made templates available. These templates are organized based on the specific data integrations you wish to utilize. For instance, if you aim to create a customized Google Analytics report, you can choose from various options, including:
eCommerce PPC report
Google Merchandise store report
Google Analytics Behaviors Overview
Upon selecting a template, the complete report will be generated for you automatically.
Step 6: Integrate Your Website Data
A new report with an untitled name will be generated. In this stage, you'll need to incorporate a data source. The most efficient approach is to integrate with other tools, and you can also manually upload your data if desired. To choose a data source, click on the available options or create a new one using the button below. Google offers support for 18 sources easily connected to your report.
Step 7: Add Data
To include data in your report, drag and drop it from the data sources pane on the screen's left side. You can utilize filters and calculated fields to manipulate your data as needed. These data manipulation features are called "Google Connectors," with over 20 options.
Step 8: Format Your Data
Google Data Studio allows you to format your data in various ways. You can modify the font, color scheme, and text size and adjust your graphs and tables' border, background color, and alignment. Utilize the style tab on the right-hand side to effortlessly manage the visual appearance of each component within your dashboard.
Step 9: Share Your Google Data Studio Report
Once you have completed the creation of your report, you can easily share it with others through various means. You can export it as a PDF file or publish it online. Additionally, you can embed your report in a website or blog post for seamless integration. To access these options, click on the share button in the screen's upper right-hand corner.
Benefits of Using Google Data Studio:
Utilizing Google Data Studio for your interactive reports offers numerous advantages. Below are some of the best benefits:
Google Data Studio is a free tool that allows you to generate unlimited personalized reports.
It offers extensive flexibility, enabling you to modify various elements such as font, color palette, text size, border color, background, and alignment of graphs and tables. 
Regular updates and frequent addition of new features ensure that remains up-to-date. 
It is widely trusted as a reliable tool, utilized by millions of individuals globally.
Mastering Google Data Studio is a breeze, enabling you to produce top-notch reports within minutes.
To Sum Up
Google Data Studio serves as a free powerful tool for marketers, empowering them to transform complex data into meaningful insights and impactful reports. Data Studio simplifies analyzing and presenting data with its intuitive interface, seamless data integration, and customizable visualizations. From connecting to data sources and utilizing pre-made templates to formatting visuals and sharing reports, this guide equips marketers with the knowledge to leverage the full potential of Google Data Studio, enabling them to make data-driven decisions and drive marketing success.