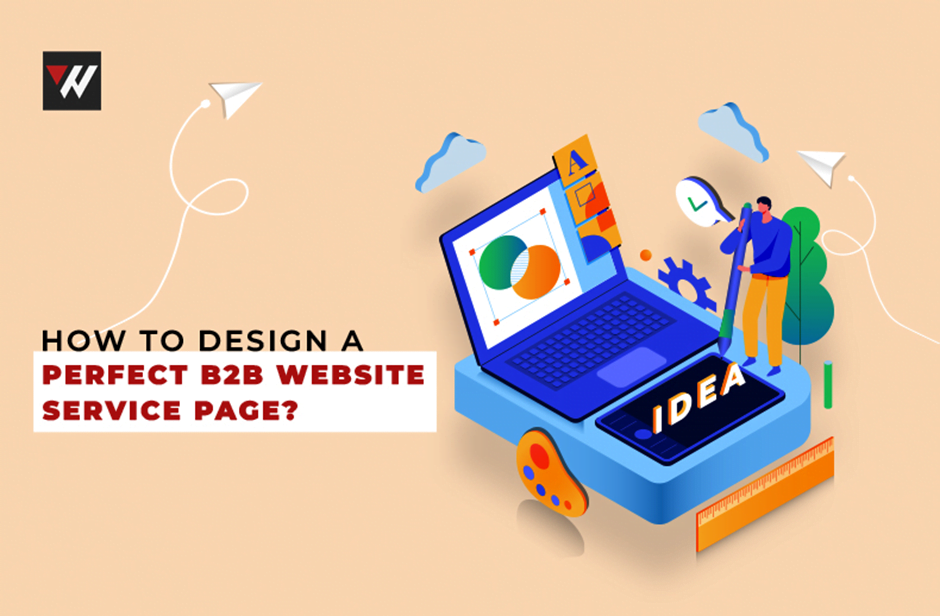 How to Design a Perfect B2B Website Service Page?
Your B2B website is frequently the initial point of interaction between your company and potential customers in the digital age. A well-designed service page can significantly impact drawing in visitors and turning them into qualified leads. It is crucial to create a service page that showcases your offerings and effectively communicates their value and benefits to your target audience. By highlighting key features, providing relevant case studies, and incorporating compelling visuals, you can establish credibility and build trust with potential customers, increasing the likelihood of conversion. Optimizing the page for search engines and ensuring a seamless user experience can enhance its effectiveness in attracting and engaging visitors.
Tips to Design a Perfect B2B Website Service Page
Below are some practical tips you can consider to ensure your B2B website service page is exciting and informative.
Recognize Your Audience
Knowing your target audience is essential before you start designing. What are their pain points, needs, and preferences? Customize your content and design to meet these requirements. Make decisions based on consumer personalities. Consider conducting market research or surveys to gather information about your target audience's demographics, interests, and behaviors. This data will help you create a more tailored and practical design that resonates deeply with your audience. Stay updated on industry trends and competitors to ensure your strategy remains relevant and competitive.
Concise and Captivating Headlines
Your service's main points should be briefly stated in your headline. It should be concise and captivating and emphasize the exceptional value you provide them. Please think about adding keywords to boost SEO. A well-crafted headline captures the reader's attention and effectively highlights your service's benefits. You may improve your website's search engine optimization (SEO) and attract more visitors by using pertinent keywords. Recall that the secret to leaving a lasting impression on prospective clients is to balance succinctness and attention-grabbing language.
Captivating Images
To break up the content and add visual appeal to the page, including high-quality photos, infographics, and videos. In addition to keeping users interested, visual content can assist in clarifying complex services. Visual content impacts user engagement substantially and can effectively convey information more memorably. By incorporating captivating images, businesses can create a visually appealing experience that enhances their website's or marketing materials' effectiveness.
Informative Content
Clearly state the nature of your service. Bullet points and subheadings can assist in breaking down material into easily digestible bits. Use simple language to explain the purpose and benefits of your service. Provide examples or real-life scenarios to make it relatable for the audience. Visual aids such as infographics or videos can also enhance understanding and engagement. Consider incorporating interactive elements like quizzes or activities to reinforce learning and make it more interactive for the users. 
Highlight Advantages
Pay attention to the advantages your service offers. How will it solve your client's problems or boost their business? Explain why using your service is the best option. Highlighting the benefits of our service is critical since it tackles our clients' troubleshooting concerns and provides accurate answers. Our solution enables companies to streamline processes, enhance productivity, and save time and resources. Our creative strategy guarantees businesses stay ahead of the competition by providing cutting-edge technology and personalized support. Our service includes selecting the optimal action for their company's expansion and prosperity.
Testimonials and Case Studies
Showcase real-world examples of how your service has benefited clients. Use case studies, testimonies, and success stories to establish credibility and trust. These examples provide concrete evidence of the value and effectiveness of your service, helping potential clients understand the tangible benefits they can expect. By sharing specific details and outcomes, you can demonstrate your expertise and build confidence in your ability to deliver results.
CTAs, or Calls to Action
Include calls to action (CTAs) that are both engaging and obvious to help visitors move forward. CTAs are necessary for conversion, whether the step is to download a resource, schedule a demo, or get a quote. CTAs should be strategically placed throughout the website at the end of blog posts or landing pages to encourage visitors to take the desired action. Additionally, using persuasive language and incorporating a sense of urgency can further enhance the effectiveness of CTAs in driving conversions. 
Responsiveness on Mobile
Make sure that your service page is mobile-friendly. Because more and more customers are visiting websites through smartphones, responsive design is crucial. Users will have a smooth experience using a mobile-friendly website, making it simple to engage with and explore your service page on their mobile devices. Doing this will raise your website's search engine rating and increase consumer happiness. 
Easy-to-use Navigate
Make sure your service page is simple to find for visitors. A well-organized menu and intuitive navigation are crucial. If your website has several pages, use a search bar or breadcrumbs. These features will allow visitors to find the specific service they seek quickly. Incorporating clear and concise labels for each page will enhance the user experience and make navigation even more effortless. 
Optimization for Search Engines
Make your service page is more search engine friendly by providing meta tags, relevant keywords, and valuable, shareable content. Your page will appear more prominently in search results as a result. Ensure your website loads quickly and is optimized for mobile devices, as these elements also help your website rank higher in search results. Regularly updating your content and acquiring backlinks from reliable websites will improve your page's visibility and chances of appearing on the first page of search results.
A/B Test
Test and adjust various components of your service page regularly to see what functions best. A/B testing can help you enhance your design for increased user engagement and conversion rates. A/B testing allows you to identify which features more effectively attract and maintain consumers by comparing two versions of your service page. This data-driven method will enable you to optimize your design for best performance and make well-informed decisions.
Continual Updates
Update your service page with the most recent data, case studies, and testimonials to keep it current. Outdated material may turn off prospective customers. Regularly updating your service page not only indicates your commitment to offering the most excellent possible experience for your clients but also aids in the development of trust and credibility. You may demonstrate your services' continued success and applicability by displaying the most recent data, case studies, and client endorsements. This will draw in more prospective clients. 
Conclusion
Creating an ideal B2B website service page necessitates a thorough comprehension of your target market, captivating imagery, educational material, and an emphasis on user experience. By adhering to these rules and continually enhancing your page, you can create an engaging online presence that promotes leads and portrays your firm as a trustworthy provider of B2B services. Remember that it is critical to periodically update your service page with new material and stay current with industry trends to maintain relevance and attract potential clients. Including case studies and client endorsements might help you establish more credibility and convince prospective clients of the benefits of your B2B services.